October 3-4, 2023, in Saratoga Springs, NY

Join us in 2023 for the New York State Children's Alliance (NYSCA) Leadership Conference
to be held in-person at the Holiday Inn in Saratoga Springs, NY.

Join multidisciplinary professionals from across NY state and
increase your knowledge, network, and re-energize for the important work at
Child Advocacy Centers, Schools, Mental Health agencies and all child welfare organizations.


2023 Keynote Speaker
Ken Nwadike, Jr. - The Free Hugs Guy
Ken has done many things in his life. He founded the Hollywood Half-Marathon to help the homeless after overcoming homelessness himself as a student athlete. He created successful businesses it the midst of a world crashing pandemic. As The Free Hugs Guy, He risked his life on the frontlines of protests across the nation, de-escalating violence in the midst of intense anger.

Sometimes the most powerful thing Ken does, is done softly. Ken is a master of difficult conversations, of bridging divides, and helping the many parts of an organization or team feel connected. As one participant remarked after a conversation with Ken, "Now I know how to talk with my uncle this Thanksgiving!" This is the quiet work of building relationships. Relationships that change hearts and minds. Whether through a conference keynote, small group leadership facilitation, or breakout workshops, Ken always inspires. He is a leader's leader, and he leads with kindness, respect and hope.
PLENARY SPEAKER: Dr. Anthony Orsini, Intensive Care Physician
This presentation teaches the communication skills necessary to positively influence challenging situations encountered daily.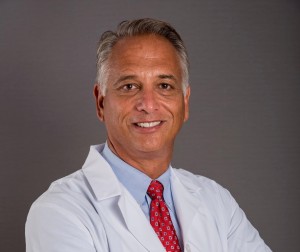 This year's Leadership Conference offers your choice of 20 advanced level workshop options including Speaking with Families of Color About Abuse, "Take It Down" and other NCMEC Tools to Prevent Further Victimization, Civilian Response to Active Shooter (CRASE), The Medical Exam: The Process and Why it is Important to the Child, An Introduction to Fund Development, and more.
Click on the brochure cover below for workshop and conference information.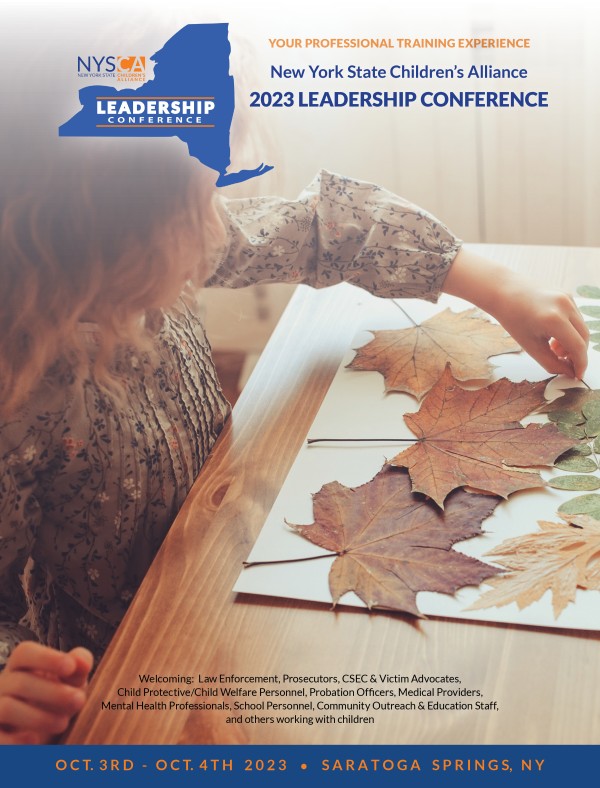 The 2023 Leadership Conference will be held Tuesday, October 3rd from 8:00-4:30 and
Wednesday, October 4th from 8:00-12:30 at the Holiday Inn, Saratoga Springs, NY.

Registration Days:
May 20 - September 28, 2023
Regular Fee:
$140.00 per person


HOTEL RESERVATIONS: 2 options
1) The Inn at Saratoga 231 Broadway. It is directly across from the Holiday Inn. Request the government rate.
For reservations click HERE.

2) Hotel Saratoga 3291 South Broadway. Rooms start at $119. (Government rate in October is $121.) It's 2.4 miles south of the Holiday Inn. For reservations click HERE.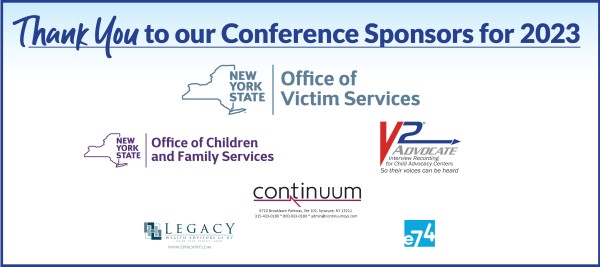 If you are interested in becoming a sponsor of the
2023 NYSCA Leadership Conference, please review options HERE.