1 in 10 children will be abused before their 18th birthday. One child abused in One Too Many.


THANK YOU to everyone who participated and supported the One Too Many NY 5K to end child abuse this year. We had nearly 750 participants! We cannot do the work we do without you--thank you! Check out the 5K prize winners and photo gallery for 2022 HERE.
The One Too Many NY 5K is set for September 15th-17th, 2023.
It's your chance to run, walk, jog, hike or bike, virtually or in some cases, in-person, to support a Child Advocacy Center in NY state in their mission to end child abuse.
Once again, anyone, anywhere can join the 5K fun and compete for prizes, take photos, and clock your best time as individuals or teams. Don't forget to grab a running buddy bandana for your furry friend too.

The funds raised from registration fees will assist New York state's Child Advocacy Centers (CACs) in their work to provide healing services to children in crisis and prevention education resources to communities throughout NY state.


New York State Child Advocacy Centers that Participated in 2022


Bivona Child Advocacy Center, Monroe County
Broome County Child Advocacy Center
Center for the Prevention of Child Abuse, Dutchess County (CPCA)
Chemung County Child Advocacy Center
Child Advocacy Center at BestSelf, Erie County
Child Advocacy Center of Columbia and Greene Counties
Child Advocacy Center of Niagara
Child Advocacy Center of Northern New York
Child Advocacy Center of Oswego County
Child Advocacy Center of Putnam County
Child Advocacy Center of Wayne County
Children's Advocacy Center at the Westchester Institute of Human Development (WIHD)
Clinton County Child Advocacy Center
Cortland County Child Advocacy Center
New York State Children's Alliance (NYSCA)
Otsego County Child Advocacy Center
Saratoga Center for the Family-Harriet M. West Child Advocacy Center
Southern Tier Child Advocacy Center
The Safe Center LI

"Preventing child abuse is like climbing a mountain. It's difficult, but not impossible…when we all pull together!" -R. Keller-Coffey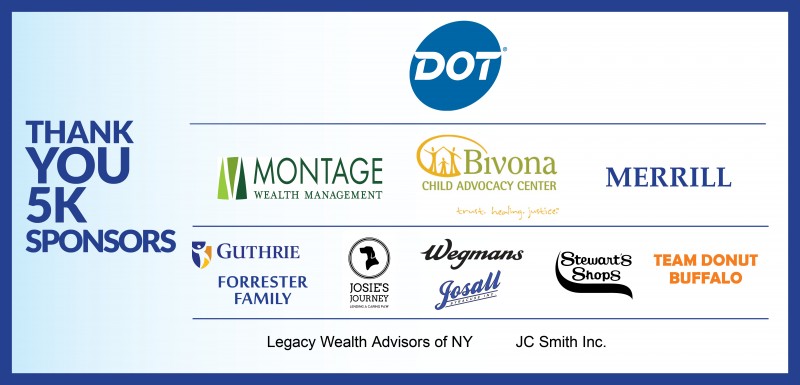 At Dot Foods, when we celebrate each other's differences and work together to make the community a better place,
we become great together. Learn more at DotFoods.com.