THANK YOU to EVERYONE for making this year's 5K such a success!
The virtual One Too Many NY 5K to end child abuse was a great success with over 850 participants this year--our largest number to date! We thank the Child Advocacy Centers who participated and promoted the event, our generous sponsors, all the teams, individuals, families (and dogs) who registered, walked, ran, rolled, hiked, biked or just donated.
You are all wonderful and have helped victims of abuse receive the support and free services they need to reach their fullest potential. Your support allows us to invest in innovative, evidence-based, and compassionate programs for children, their caregivers, and those who advocate for their proper treatment and greatest attainment in our society.
One child abused is #OneTooManyNY but you have made a difference! Check out this year's competition winners below and watch for the 5K photo gallery coming soon.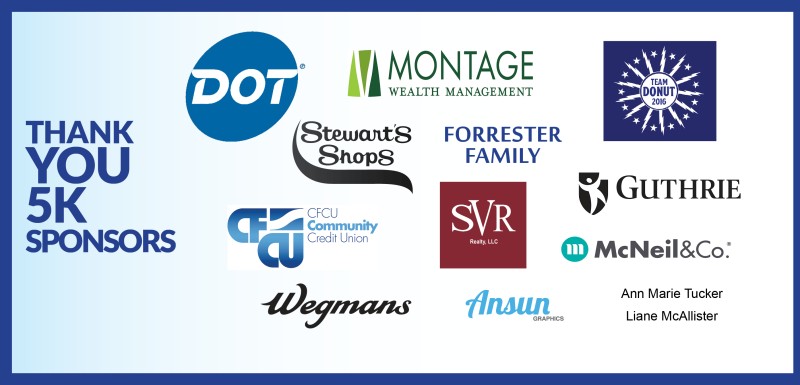 THANK YOU FOR SUPPORTING THE FOLLOWING CHILD ADVOCACY CENTERS:
The Victims Assistance Center of Jefferson County-Child Advocacy Center of Northern New York
Otsego County Child Advocacy Center
Chemung County Child Advocacy Center
Schuyler County Child Advocacy Center
Child Advocacy Center of Oswego County
Cortland County Child Advocacy Center
Saratoga Center for the Family-Harriet M. West Child Advocacy Center
Southern Tier Child Advocacy Center
Child Advocacy Center of Niagara
Crime Victims Assistance Center-Broome County
Orange County Child Advocacy Center
Center for the Prevention of Child Abuse, Dutchess County (CPCA)
Child Advocacy Center of the Finger Lakes
Children's Advocacy Center at the Westchester Institute for Human Development (WIHD)
MHA of Columbia-Greene Child Advocacy Center
Child Advocacy Center of Wayne County
Child Advocacy Center at BestSelf, Erie County
Madison County Child Advocacy Center
Schenectady County Child Advocacy Center
New York State Children's Alliance (NYSCA)

"Preventing child abuse is like climbing a mountain. It's difficult, but not impossible…when we all pull together!" -R. Keller-Coffey