Thank you, 2021 Leadership Conference Sponsors


*Thank you to our longtime sponsor, V2 Advocate, for their many years of support for our Leadership Conference.
Each year V2 Advocate provides a Comfort Frog to be raffled off to one of our lucky CAC members.
V2Advocate provides a digital interview recording management system that is becoming the leading industry standard for customized recording solutions. It is designed specifically for CACs and is used by many of our members.
*Thanks to Network Ninja for sponsoring the 2021 Leadership Conference. Network Ninja's case management software, Collaborate, is used by our member CACs throughout NY to track clients, record services and provide accurate reports to funders. Visit collaboratesoftware.com
THANK YOU ALL for attending our 2021 Leadership Conference!

See you next year for another amazing conference!
SAVE THE DATE: Tuesday, October 4th & Wednesday, October 5th, 2022 in Saratoga Springs, NY


NYSCA recognized some of the great work our Child Advocacy Centers accomplished this past year with three awards. The winners for 2021 are:

Leading-Edge Director Award:
This award recognizes an outstanding CAC executive director who has demonstrated exemplary leadership skills, fostered outstanding team dynamics and team management during the past 12 months.
Presented to: Jennifer Brownell, Child Advocacy Center of the Finger Lakes


Hero for Children Award:
This award is for a team member who has made significant contributions toward promoting the best interests of abused and neglected children throughout the state of New York.
Presented to: Matt Kachermeyer, Child Advocacy Program of Chautauqua County


Standing Ovation Award:
Our Standing Ovation award goes to a Child Advocacy Center who in the past twelve months has implemented a creative and/or innovative idea or project that impacted their CAC and the children they serve.
Presented to: Jane Barker Brooklyn Child Advocacy Center
---

2021 Keynote Speaker-Ron Culberson Anyone who is interested in ordering his book, Do It Well. Make It Fun. click HERE.
---
Best Selfie during the Conference: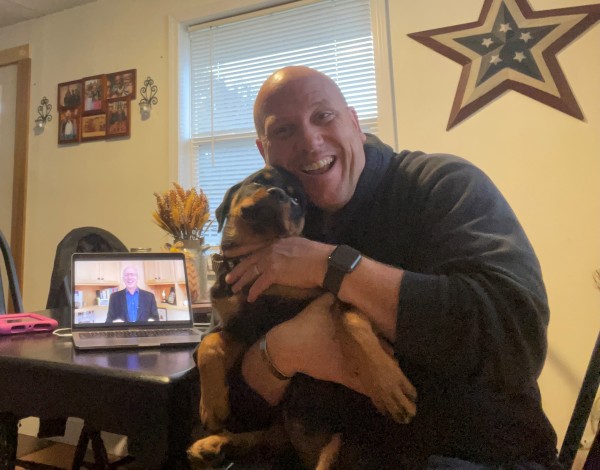 Det. Mike Bates with the Syracuse Police Department, Abused Persons Unit
at McMahon/Ryan CAC and Onyx--excited about our conference and guest speakers!
2021 Photo Gallery